Cast resin transformers are dry-type transformers. The magnetic circuit and windings are not immersed in an insulating liquid but are cast with an epoxy resin mixture. These special transformersare finding an ever-increasing scope of application for their high-service reliability.
Cast resin transformers are a popular choice for use in commercial, industrial and residential sites. These power tranformers require practically no maintenance and have a much lower environmental impact than traditional oil-immersed transformers. Auto-extinguishing and other safety features make it the obvious choice for indoor applications and other areas with high fire risk.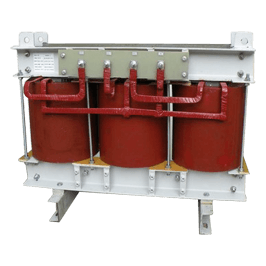 Casting process
The casting process minimises the deposit of pollution and corrosive particles as well as being strong and waterproof. The active parts are cast with a resin mixture of quartz flour and epoxy resin after being secured to a mould and preheated under vacuum.
Power Transformer Windings
The cast windings are divided in many tapes having only one turn for each layer – achieving a higher impulse voltage resistance capability and a lower risk of partial discharge. The winding is usually made with aluminium tape therefore mechanical stresses due to the transformer's temperature variation are reduced. Low voltage windings are manufactured by a single foil of aluminium or copper, producing a strong resistance against short-circuit stress because the dielectric stresses are very low. Cast Resin Transformer Windings
Insulation
The windings are very resistant to condensation and pollution ensured by the use of pre-impregnated Class F insulating materials – making the winding solid and strong but at the same time free to move with a certain degree of flexibility.
Cooling
The cast resin transformers are usually cooled with natural cooling by air (AN), though certain cases require the use of fans for cooling with forced air (AF). At all times the ventilation openings must be kept clear to allow the natural dissipation of heat produced from the transformer (Joule effect).
Proper cooling is ensured through circulation of natural air, flowing through the transformers surfaces with a natural flow from the bottom to the top. In the transformer room there should be openings at the bottom for the entry of cooling air and at the opposite side of the top for the exit of the thermal loaded air.
Prima's range of Cast Resin Transformers have found an ever-increasing scope of application across a myriad of sectors for their superior build quality and high service reliability.
Prima's cast resin transformers are dry-type transformers in which the magnetic circuit and windings are not immersed in an insulating liquid but are cast with an epoxy resin mixture.
8 reasons to choose Cast Resin Transformers
Reduced risk of fire and increased levels of safety.
Suitable for indoor use. External applications available on request. Can close couple to main distribution switchgear. (No cabling, bus-coupled)
No need for costly civil construction and installation may be closer to critical load.
Smaller footprint as the transformer is tall and slim with less instrumentation.
Easily retrofitted into commercial buildings.
Maintenance free
Environmentally friendly.
Made from 85% recycled materials.